Tired of feeling fatigued when riding your bike?
If you've tried doing specific exercises to help increase control and balance on your bike to rip the downhill and whip around corners...
BUT instead just end up with tighter hips and low back, you've come to the right place.
Tight hips and a painful low back can make mountain biking difficult. And it's supposed to be fun!
Well, as a doctor of physical therapy and founder of The Ride Life, a company that focuses on women's mountain biking fitness, I can confidently share that strengthening your core will make a world of difference.
Your core is the like the hub of your body and is especially important to help you stay strong and in control on your mountain bike.
Because being able to...
... off load your hands and move your body around
... weight through your hips to use your butt muscles better for that tough climb
... gain speed on that awesome corner...
... is key.
Now, there's lots of core exercises on the "market" that look really cool but are very hard to do.
That's why in this article, I cover 3 base core exercises that will help you gain more stability and control on your bike... and are easy and uncomplicated to do.
These are some of the base exercises I use in the Core Crushers Program -- the program I designed to self-strength test your level so you know you're doing the exercises that are right for your endurance and strength.
The exercises below focus you in on your breath... your control... and your use of your core muscles, NOT your low back or hips.
Before you strengthen any area you must first know how to activate it, and know if it's working. Then you gain endurance and strength.
So exercise one is to help you activate. Then two and three are for endurance and strength.  
This is a good way to think about all workout programs and skills. Think about what muscles you want to work, and then determine if the exercise actually works them.
Also, when we think about the core, typically we think about the wonderfully looking 6 pack muscles. But what these exercises focus on are the lower abdominals. More specifically, the lower oblique muscles.
These muscles are very important for rotational support such as the ability to rotate your body or be in control to hold a position against more rotation (so when you are cornering you can rotate your body but not lose control of your body).
Use the following exercises together for a short at-home workout for your core and you'll feel a huge change when you get back out on your bike.
Now is the BEST time to set aside time to get that core working in your favor.
Ready? Roll out your yoga mat and let's get started!
Exercise 1: Hands and Knees Pelvic Tilt
Objective
To understand the concept of how to move only your pelvis/low back not your upper back via your abdominals not your butt
Perform:
Things to Note:
Make sure to keep the upper part of the back still, not rounding or sagging
Exercise 2: Hands and Knees Arm Raise
Objective:
To keep your body still with core activation as you raise one arm then the other
Perform:
Things to Note:
Make sure to keep your shoulders away from your neck and to keep your feet on the ground.
Exercise 3: Hands and Knees Leg Reaching Out
Objective:
To keep your body still with core activation as you raise one leg then the other
Perform:
Things to Note:
Make sure to keep your back stable and body stable. Also both hands need to stay on the ground, this is harder than the bird dog exercise, because you are not counterbalancing your legs with your arms. This is a challenging exercise if done with the stability and movement focus.
Are You Bike Season Ready?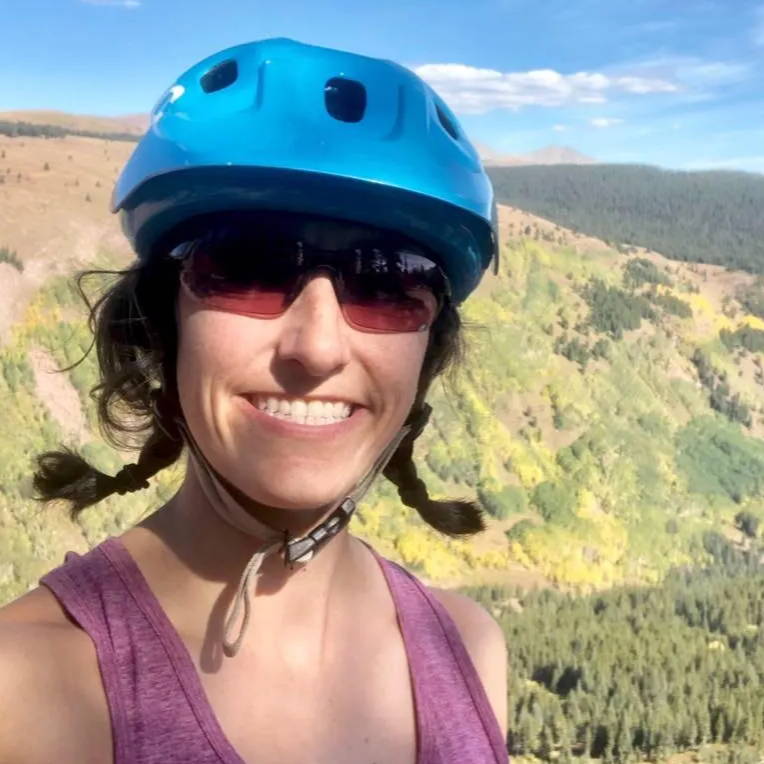 Liz Koch, PT, DPT is a physical therapist who knows exactly what it's like to have pain and then come back stronger then ever. She has been to many PTs in her life, which is what inspired her to become one. She has been a mountain biker since she was a kid and recently opened up her own clinic in Western North Carolina, Blue Ridge BioMechanics. She wants to share knowledge so you know exactly what to do to ride better, stronger, and keep your body feeling good. She has focused this mission to Rad Mountain Biking Ladies on Facebook and through her online business, The Ride Life.
Let her know if you have questions.
*If you have pain please consult with a doctor or physical therapist for further evaluation, Liz Koch and companies are without liability if you injure yourself while performing these exercises*